By Kerrie Mullins-Gunst
We're Sorry – The Leadership Coaching Club is currently CLOSED…
We will be relaunching soon – bigger and better than ever.
We know you will love everything we have planned for the Leadership Coaching Club when we re-open.
Register here now for advance notice of when we are about to re-launch and watch this space for future updates.
Topics: LCC Details, News | No Comments »
By Kerrie Mullins-Gunst
A huge thank you once again to everyone who entered our launch competition and all the others who contacted me offline to congratulate me for reaching my 15th business birthday.
Two winners were randomly selected to receive free memberships of the Leadership Coaching Club.
And the winners are Steve Young and Phillipa Challis. Congratulations to Phillipa and Steve!
However everyone who joins the Leadership Coaching Club is a winner and it's not too late for you to Join Now.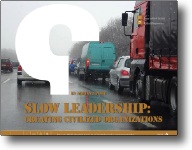 But if you weren't one of the two lucky winners I have a consolation prize for you.
Click here to download free of charge your copy of Slow Leadership by Adrian Savage.
PS. If you are already a member of the Leadership Coaching Club, you will find this – along with lots of other bonuses – in the Free Ebooks section inside the members area. You can login here.
Topics: Contest, LCC Details, News | No Comments »
By Kerrie Mullins-Gunst
You can win free access to everything the Leadership Coaching Club offers – for as long as you wish, no more to pay ever, just by entering our contest.
This month we are celebrating our 15th business birthday! So we thought we'd have a contest – with Prizes. And we couldn't think of a better prize than full membership of the Leadership Coaching Club – unless it was lifetime membership!
To enter, all you have to do is add a comment below telling us why you would like to be a member of the Leadership Coaching Club.
You have until the end of April to post your comment, then we will choose the best post as winner.
Your reason for wanting to be a member can be as short or as long as you want it to be. Tell us about the difference being a better leader would make to your life and your work, or what you like about the thought of joining an online leadership program, or why what you do as a leader is so important or how it might help you.
Your reason doesn't have to be long, detailed or profound. Just a quick comment will do. Tell us why you should be the lucky one to win.
Heck, if you can't think of any other reason, just wish us a happy birthday.

The winners will receive free membership to all the benefits of full membership of the Leadership Coaching Club for as long as they wish to remain a member – that's free Lifetime Membership!
The winners will be announced here after the contest closes.Don't delay. Enter now by posting your comment below.
Edit!
Only one prize doesn't seem like much of a birthday party! How about we make it TWO free memberships and find a free gift for everyone else who adds a comment?
Does that sound better?OK. Add your comment below. Tell us why you want to be a member now.
Topics: Contest | 19 Comments »
By Kerrie Mullins-Gunst
The Leadership Coaching Club is all set up and ready to go. In fact it's looking great!
Here are some sneak peeks inside at just some of what you'll find when you join. Here's the Welcome page: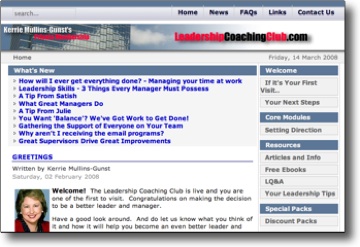 You'll find lots of Articles: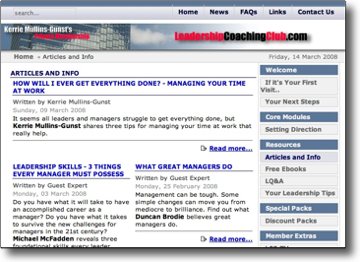 There are even Videos answering your questions: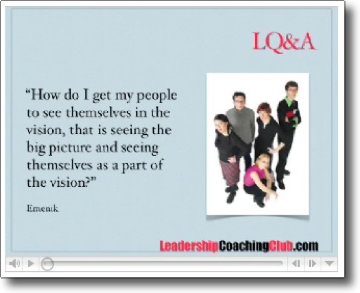 And of course there are all the Core Modules with their worksheets, audios and written materials to download and guide you as you work through them…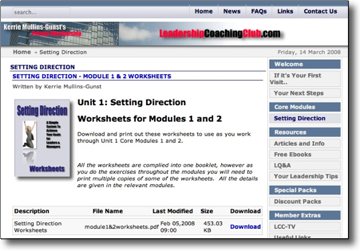 So what will you find inside?

Articles specially selected for their value to you as a leader, manager or business owner

Practical Tips and useful ideas from other leaders and managers

Free ebooks

Videos answering your questions

Links to some of our favorite resources

Special Bonuses and opportunties
plus

a whole series of Core Coaching Modules including
ebooks
worksheets and
audio programs
have already been added and even more core modules are just waiting for final approval before they are added to the members area for you.
So don't delay!  Join now…
Topics: LCC Details | No Comments »
By Kerrie Mullins-Gunst
The Leadership Coaching Club is like a gymnasium.
Just being a member of a gym won't make you lose weight or get fitter. And it's the same in the Leadership Coaching Club.  But when you do what we show you, yes you WILL become a better leader.
And we'll even show you how. Not one, but five of the core modules are devoted to showing you how to take effective action to ensure you reap all the rewards of your membership of the Leadership Coaching Club – not just now but forever going forward.
Of course, if you are one of those people who join but never do anything – well you would be better off not wasting your money.  Nothing will help you.
On the other hand, if you are able to read, and you can follow some simple clear instructions and you really want to be a better leader and manager, then the Leadership Coaching Club will help you become the leader of your dreams – starting today!
Topics: LCC Details | No Comments »
By Kerrie Mullins-Gunst
That's OK.
We understand how the demands of being a leader and manager can make it difficult to schedule your time.
That's exactly why we have set things up in the Leadership Coaching Club the way we have! 
All the program materials are available and waiting for you any time, right in the members area.  You can download the files to your own computer and print them out or take them with you if you need to travel.  You can listen to the audios on your iPod or mp3 player when ever it suits you.
We guide you through all the core modules in a structured series with gentle reminders so you can save them and work on the program whenever it suits you.
It really couldn't be easier.
Frankly, if you are too busy being a real leader to do an academic management course, you really need the Leadership Coaching Club.
Join us now and you'll see…
Topics: LCC Details | No Comments »
By Kerrie Mullins-Gunst
Leadership is the process of delivering results through the efforts of other people.
And frequently, that's what makes it so difficult.
We are often promoted into a leadership role because we are so good at achieving results ourselves, but suddenly as a leader our job isn't to do the work ourselves any more.
It is to supervise other people doing the work! And they never seem to do as good a job as we could if we did it ourselves.
New and inexperienced leaders often struggle with this – and even end up doing the job themselves because it's quicker and easier.
But that's a trap. If you do the job your staff are meant to be doing you won't have time to do your own job, and they'll never learn the role they should be playing.
As a leader your role is to deliver results through the efforts of your people, and if that means you need to teach them how to do what is required, then that becomes your job – not doing it for them.
In the Leadership Coaching Club we look at how to lead easily, effortlessly and effectively.
Topics: Articles | No Comments »
By Kerrie Mullins-Gunst
Hi and welcome to the Leadership Coaching Club blog where I will answer your questions and keep you up to date about what's happening with the membership program.
Since I announced the new membership site there have been a number of questions asked that I will answer over the next few days.
If you have a question that I haven't answered yet, you can add it in the comments box below or use the Contact Us form to ask your question and I will answer it here.
Topics: News | No Comments »